Event Schedule for Fall 2023 Orientation
Start and Land Acknowledge: 10:00 AM
GSA President: 10:10 AM
GSA VP Finance and Operation: 10:15 PM
GSA VP External Affairs: 10:20 PM
GSA VP Indigenous Engagement: 10:25 PM
Orientation Presentation: 10:30 PM
GSA Health and Dental Plan by Robyn Paches, Program Manager, Student care: 10:50 AM
Jesse Todd, Regional Representative, North Saskatchewan Region, PSAC: 11:05 AM
Mirjana Mandaric, Senior International Education Officer, Regulated International Student Immigration Advisor (RISIA), ISSAC: 11:15 AM
Kacia Whilby, Events and Communications Specialist, University of Saskatchewan, Career Services: 11:25 AM
Guest Speaker, Dr. Debby Burshtyn, Dean of CGPS: 11:35 AM
Angie Gerrard, Liaison librarian for psychology and political studies: 11:45 AM
Susan Bens, Academic Integrity Strategist, Teaching and Learning Enhancement: 11:55 AM
Socializing, Snacks, and T-shirts distribution: 12:00 PM
T-shirt Design Contest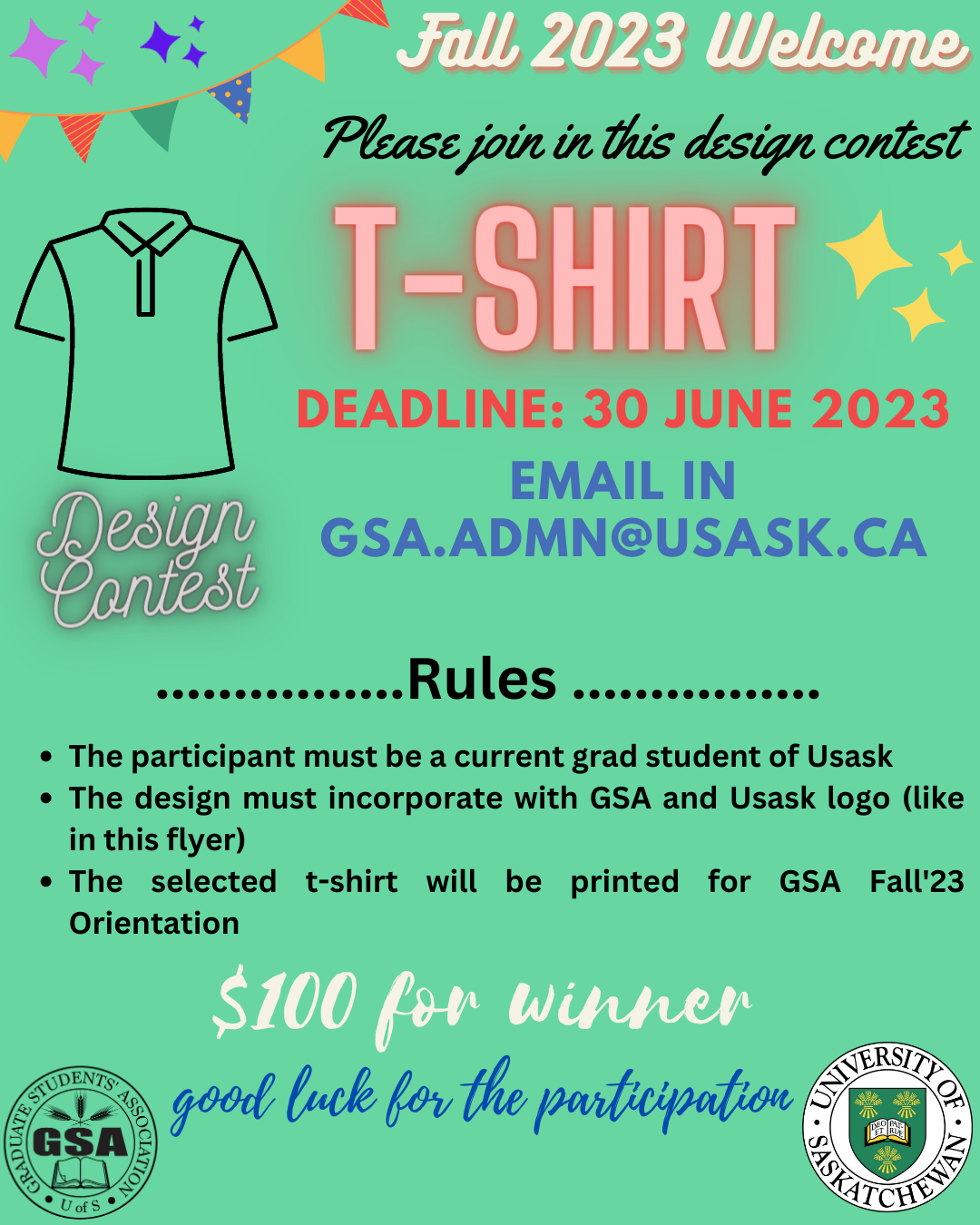 2023 Fall Orientation
Please join the GSA Executives and Studentcare for an in-person Orientation in the GSA Commons on September 7th, 2023 10:00 AM to 5:00 PM (SK Time). 
The GSA will distribute swag bags to new graduate students starting their studies in September 2023.
Note: Swag bags will be provided on a first come first-serve basis, until quantity lasts and one per person.